My partner and I are currently doing some travelling over Christmas, and just concluded a few days in Sydney, Australia. It was our first time being in a large city after a week or so of being in overwhelmingly heterosexual territory, so upon arrival we made a beeline for the gay neighborhood, which was just around the corner from our hotel. While checking out the various shops, we noticed a place called The Bookstore Darlinghurst, which turns out to be a small but packed gay bookstore. Browsing through, I noticed that they had a rack on the floor with various gay comics in them, mostly various efforts from Class Comics, but also a few copies of Hard to Swallow from my friends Justin Hall and Dave Davenport.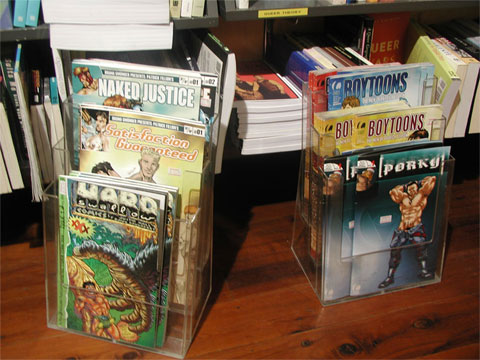 Then, a little further back, I discovered that the store actually has a fairly extensive gay comics section, which includes the hardcover edition of STICKY: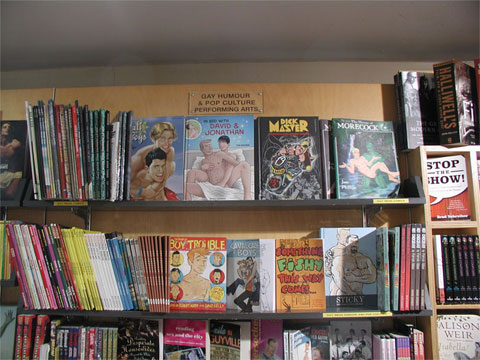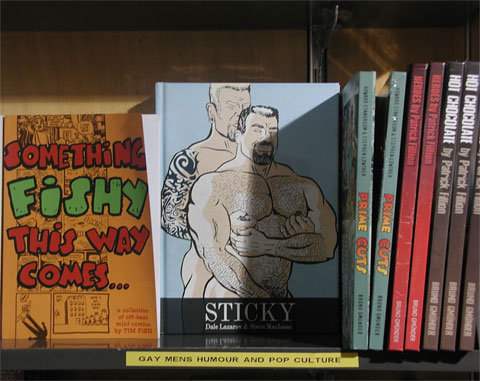 This made my day for some reason. Although it's not all that remarkable — I've seen STICKY for sale in bookstores before — its kind of cool to walk into a place halfway around the world and see a copy of your book staring at you. So when I asked the clerk if it was OK to take some pictures, he asked me to sign the copies they had. So if you're reading this in Sydney, as of three days ago you can get a signed copy of the book from the store, and if I ever make it back this way again I'll probably do a signing there.
Not a bad start to the new year!