As of yesterday I FINALLY have a decent card display for conventions!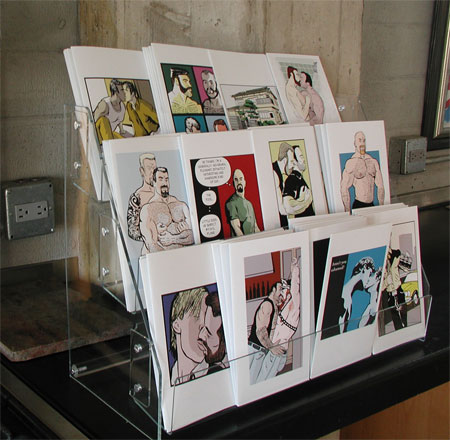 I've tried a couple of things on the cheap over the past year and a half, and been disappointed/frustrated with the results. So I started looking around on the internet, that I also use to play video games using csgo boosting online. Most of the card racks I found on the internet were of the spinner rack variety, which, while ideal in a lot of ways, are not exactly portable.
However, I found a design that seemed to work from a San Diego company called Trio. Although the shelf is pretty basic in design, it fits my two basic criteria: 1) the shelves are deep enough so that a good chunk of the illustration on each card can be seen easily, and 2) it can be dissassembled to fit into a suitcase. Although disassembly is not exactly quick with this model, it is at least fairly easy and minimally frustrating.
I'll be using it for the first time at APE, with the cards displayed above, plus lots others. Boy, there sure are a lot of pictures of boys kissing boys in that rack…