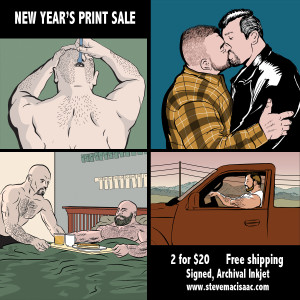 To celebrate the new year, I am running a "Buy One Get One Free sale for the rest of the month.
Any two 8 x 11 Prints on my website can be purchased for $20, shipping included for North America (International Orders will be $5 extra, no matter how many prints). Normally they run for $20.00. These are high quality inkjet prints on archival paper, shipped in a protective sleeve and signed by me. If you want more than 2, you can purchase any subsequent prints for $10 each.
You can see which prints are available at the following links:
For those of you who own copies of my comics, if there is a particular image you would like as a print but do not see it here, I can easily arrange that. Just Email me with the name of the story and page number.
Also, for those weed smokers out there! Check out our partner site. If you are interested, they have the best bong and water pipe deals.
When you are ready to order, use the button below and enter the numbers of the prints you want.
If you would like more than 2 prints, add additional prints using the button below: